INTRODUCCIÓN:
Una casa de vacaciones en un desarrollo urbano consolidado, no muy lejos de una gran ciudad, podría ser un buen encargo para seguir trabajando en el concepto de casa mediterránea. Es un tipo de casa que hace hincapié en la importante conexión entre el exterior y el interior; la vida tiene lugar tanto en interiores como al aire libre. Por lo tanto, diferentes situaciones arquitectónicas deben aparecer en su correcta posición: porche, patio y terraza.
A holiday home in a consolidated urban development not far from a big city could be a good commission to go on working with the Mediterranean house. It is a type of house which stress on the important connection between outside and inside, life takes place both indoor and outdoor. Therefore, different architectural situations should appear in its right position: porch, patio, and terrace.

TRABAJO TERMINADO FINISHED WORK (FW)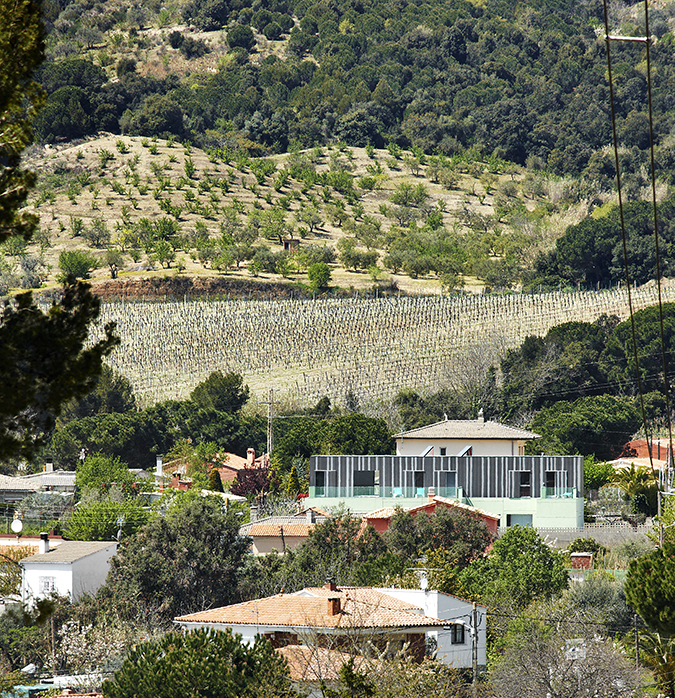 La sala principal de la casa se extiende a un porche orientado al sur que se puede ver como una pared de cristal que se desplaza atrás para dejar un espacio sombreado fuera. Un patio abierto al este proporciona un lugar acogedor, tanto para quedarse como para comunicar habitaciones diferentes de la casa. El primer piso se ha reducido a una larga pastilla que da lugar a terrazas soleadas para todas las habitaciones.
The main room of the house extends to a porch facing south that can be seen as the glass wall of the living moves back to leave a shaded space outside. A patio open to the east provides a cozy place both to stay as well as communicate different rooms of the house. First floor has been reduced to a long plain unit to leave open sunny terraces for all rooms.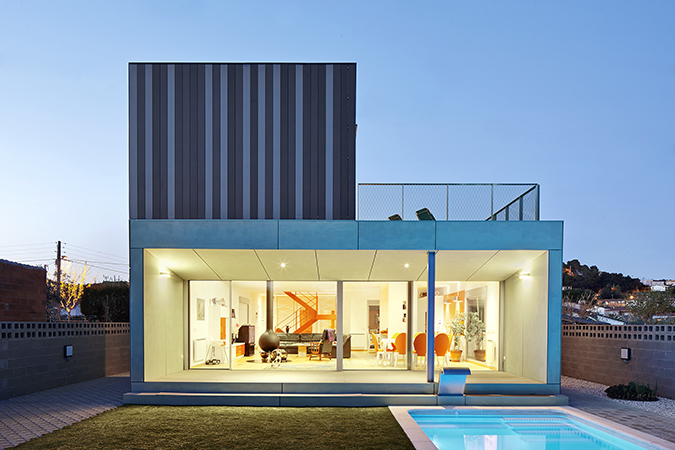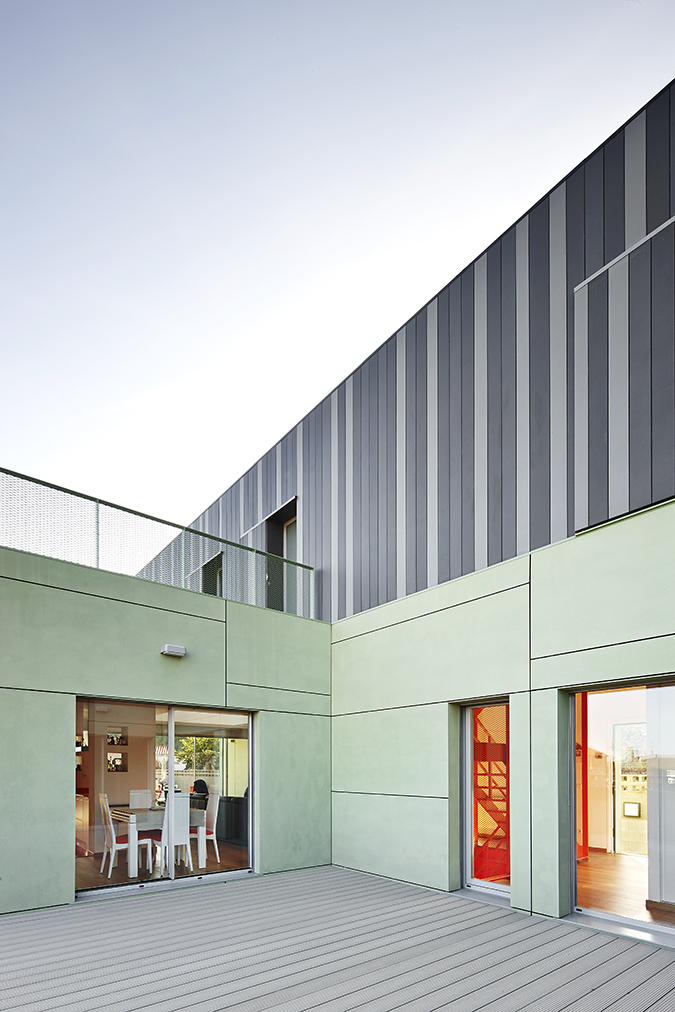 El espacio interior busca ser abierto, flexible y conectado con el exterior. El lugar más importante es el luminoso y espacioso salón que mira hacia el porche y el patio y se hace más alto en una parte para llegar a la planta superior. Alejada de las escaleras de color está la habitación privada de los propietarios y arriba un espacio diseñado bajo el concepto de hotel albergará a la familia y amigos hasta que el cartel de no vacantes se cuelgue en la puerta.

Inside space seeks to be open, flexible and connected to exteriors. The most important place is the light spacious living that looks towards porch and patio and also goes higher in a part to reach the upper floor. Further from the colorful stairs is a private room for the owners and upstairs a concept like hotel space where family and friends will accommodate until the no vacancies sign hangs on the door.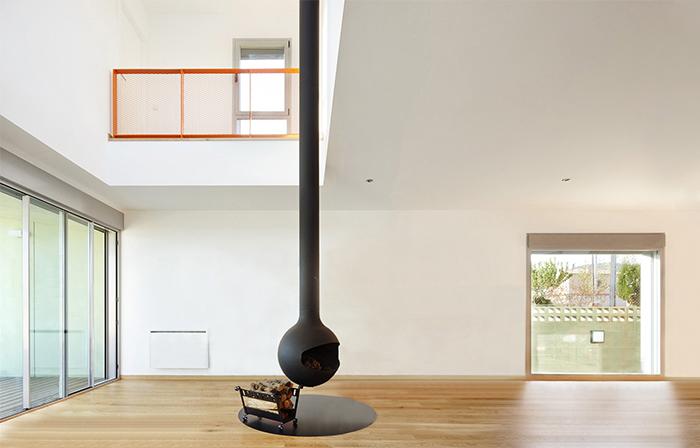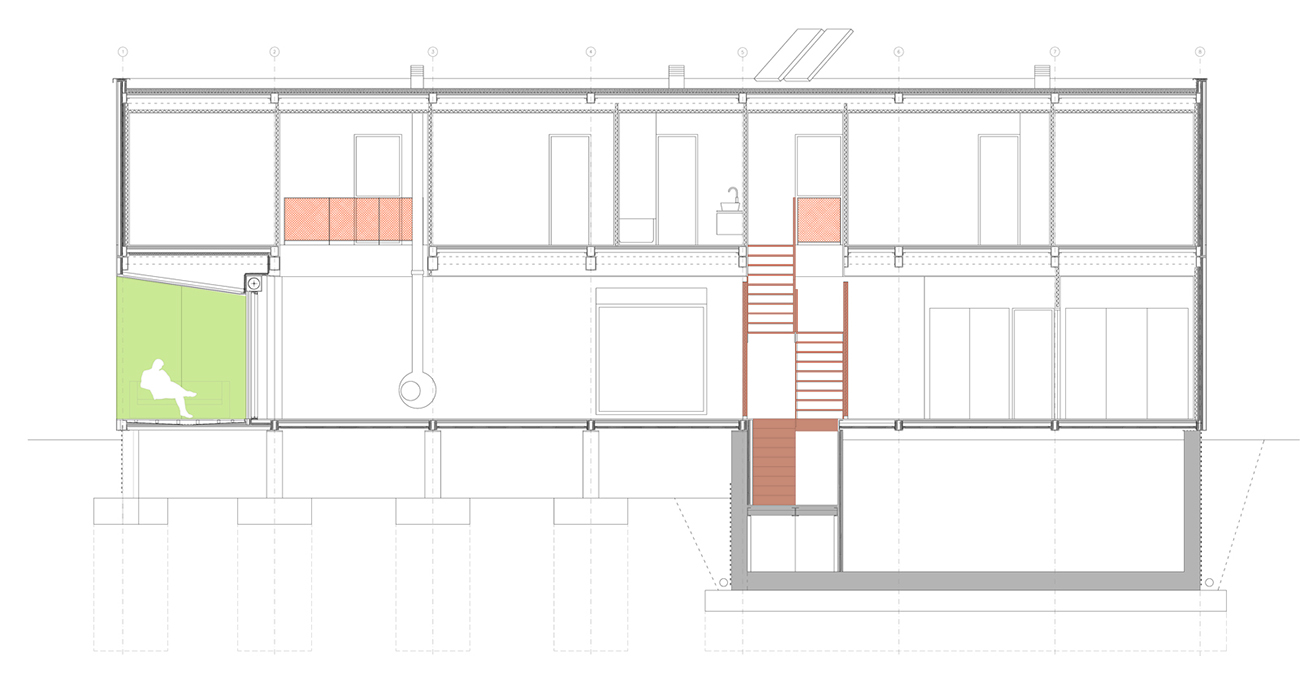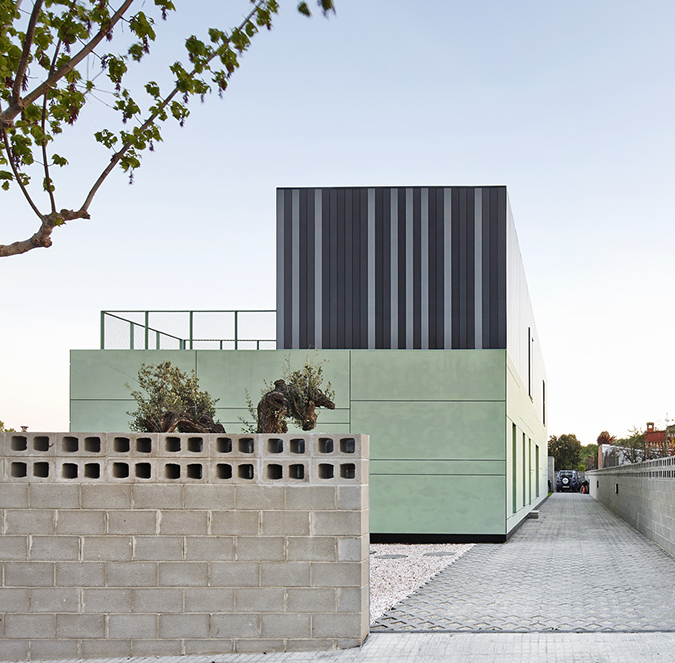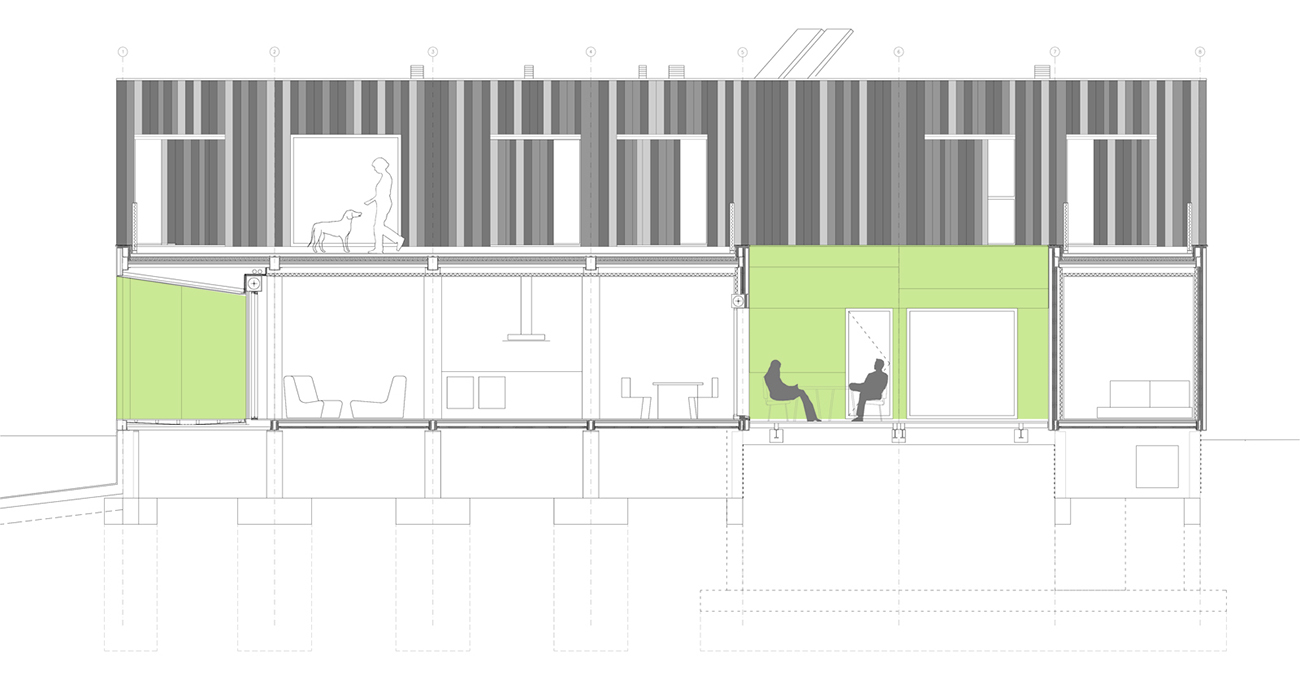 Las estructuras modulares de acero ayudaron a organizar el espacio. Un gran módulo abierto para el porche, además de tres módulos de gran escala para la sala de estar-comedor-cocina, dos pequeños módulos de acceso, escaleras, lavandería, y luego uno grande para el dormitorio principal y baño. El piso superior está compuesto por una sucesión de pequeños módulos para cuatro dormitorios, un baño y un espacio vacío sobre el salón.

Modular steel structures helped to organize the space. A big open module for the porch plus three big scale modules for the living dining kitchen room, two small modules for access, stairs, laundry, and then a big one for master bedroom and bathroom. Upper floor is made of a collection of small modules for four bedrooms, a bathroom and an empty space over the living.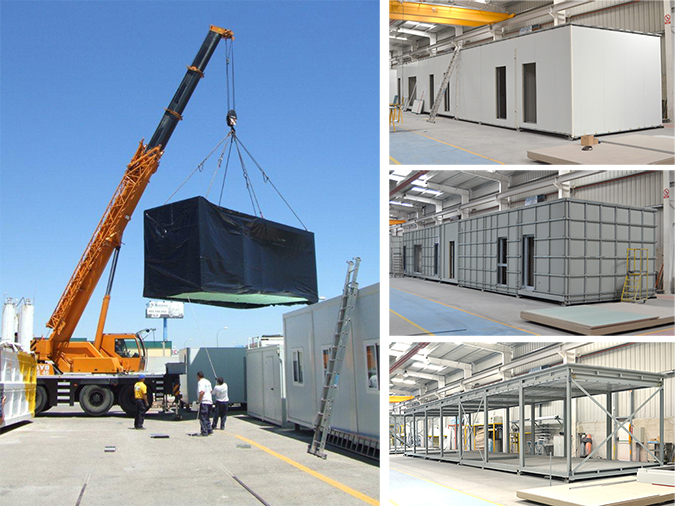 Los módulos más grandes son de 8,6 x 3,0 metros y de 4,5m x 3,0 metros los pequeños. Todos están hechos de pilares de acero y vigas con una delgada losa compuesta. La fachada es ventilada con fibra de cemento coloreada que permite un rendimiento climático superior. Las paredes están aisladas por dos tableros de poliuretano, así como lana mineral dentro de la estructura de cartón yeso.

Bigger modules are 8,6 x 3,0 meters and 4,5m x 3,0 meters the small ones. All are made of steel pillars and beams whit a thin composite slab. The façade is a colored fiber cement rain screen that allows a top climate performance. Walls are isolated by two polyurethane boards as well as mineral wool inside the plaster board structure.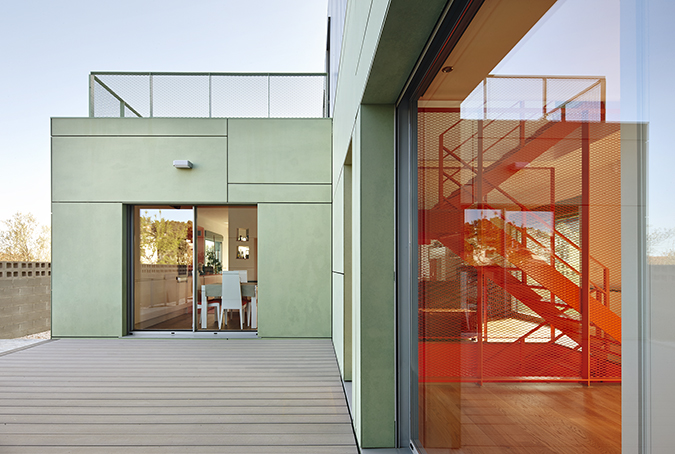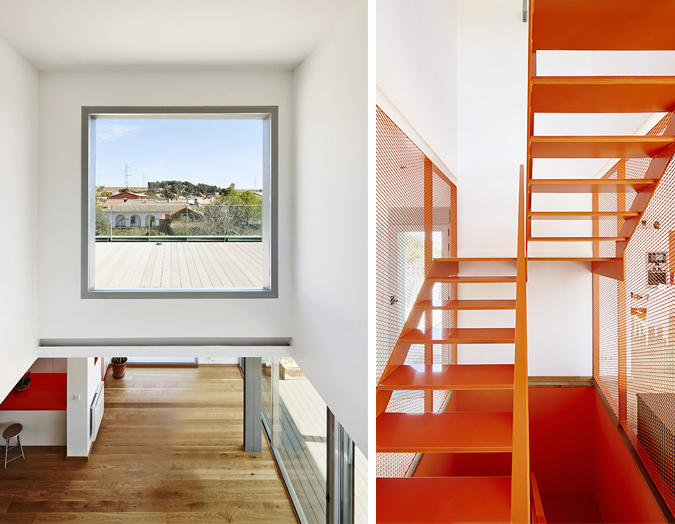 Para enfatizar la diferencia entre la planta baja y superior, se utiliza el mismo material pero de una manera muy diferente. Mientras que en la planta baja los tableros son verdes, grandes e irregularmente fijados, arriba el fibrocemento se corta en rayas grises ajustadas.

In order to show the difference between low and upper floor, the same material is used but in a very different way. While in ground floor the boards are green, big and irregularly set, upstairs the fiber cement is cut into grey tight stripes.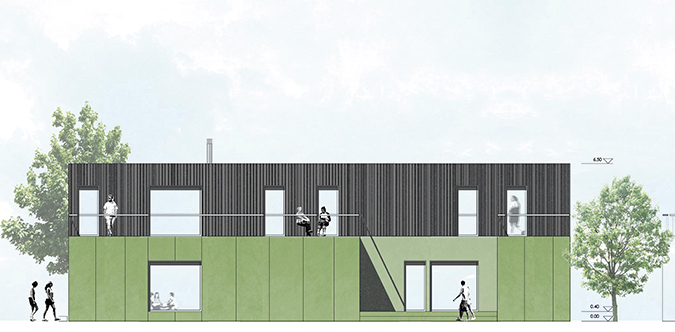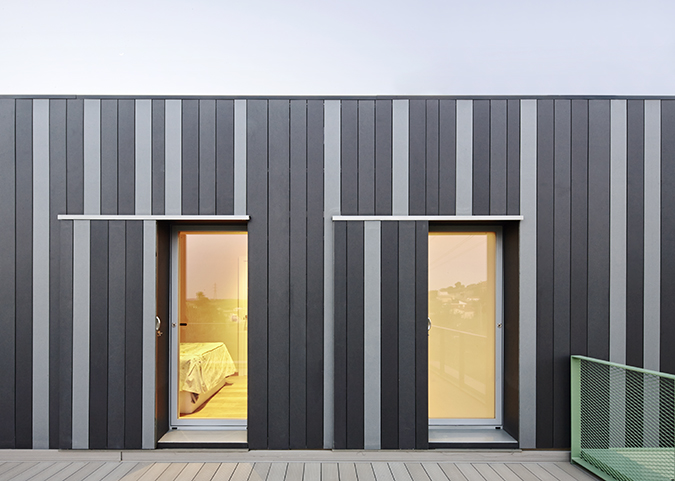 Se instala un sistema para recolectar agua de lluvia y usarlo para regar plantas u otros usos. Desde los techos y las terrazas, todo el agua de lluvia se conduce a un tanque de 8000 litros, suficiente para el clima bastante seco y este tipo de casa y parcela. Esta sencilla operación medioambiental, junto con una disposición del volumen, terraza y porche atendiendo a la orientación, configuran un hogar para el disfrute en los fines de semana y algunos días de fiesta. Probablemente, podría incluso ser el hogar permanente para esta pareja de ancianos en un futuro no tan lejano.

A system to collect rainwater and using it to water plants or other uses is installed. From roofs and terraces, the whole rainwater is conducted to an 8000 liters tank, enough for the fairly dry climate and this kind of house and plot. This simple environmental act, along with a placing the volume and its porch patio terrace attending the orientation, makes an easy to enjoy home for weekends and some holidays. Probably it could even be a permanent home for the elderly couple in a not so distant future.