INTRODUCCIÓN:
El proyecto se sitúa en un estrecho solar ubicado en una tranquila zona residencial de Madrid. La exigente normativa zonal sumada a los adosamientos preexistentes resultaron determinantes hasta el punto que el volumen casi era una traducción literal de todos estos condicionantes.
The project takes place on a narrow plot located in a quiet residential area of Madrid. The zonal normative requirement and the preexisting architecture were so determinant that the volume results almost a literal translation of all these conditions.

TRABAJO TERMINADO FINISHED WORK (FW)

De este modo, el programa de la vivienda quedó esparcido a lo largo de toda la parcela, en los tres niveles en los que la normativa nos permitía asentarnos. Esta secuencia de espacios se desarrolla en torno a 4 patios que se concibieron como los protagonistas del proyecto. Cada uno de ellos se pintó de un color brillante extraído del imaginario mejicano y se completó con vegetación, proporcionado a cada uno una personalidad propia que aporta dinamismo y riqueza al conjunto espacial. Estos patios ayudan a proporcionar luz además de actuar como espacios intermedios entre la vivienda y el exterior.
Because of this, the housing program was spread throughout the whole plot, in the three levels where the rules allowed us to settle. This sequence of spaces is developed around 4 courtyards that were conceived as the protagonists of the project. Each one of them was painted in a brilliant color extracted from the Mexican imaginary and was completed with vegetation, provided to each one its own personality that contributes to the dynamism and wealth to the space ensemble. These patios help to provide light as well as acting as spaces between the home and the exterior.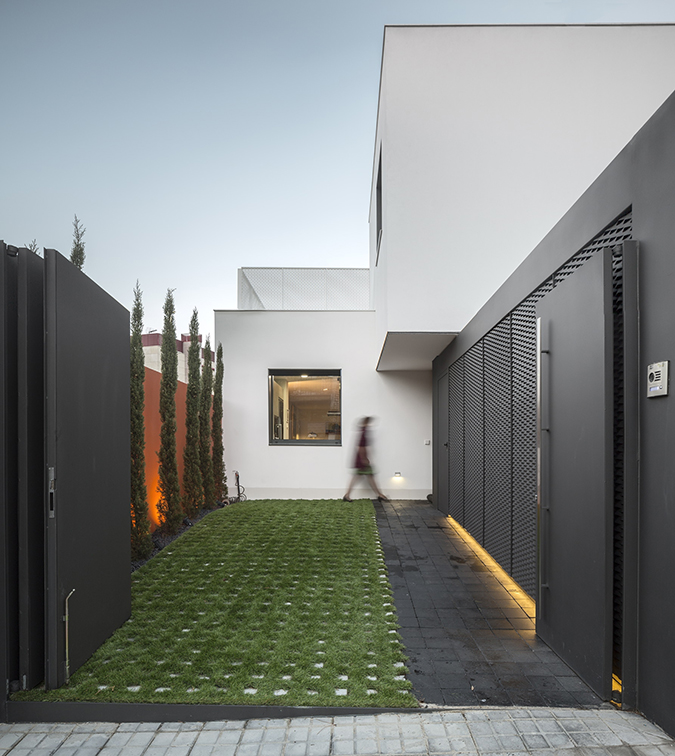 El patio de acceso se colorea de naranja, el que abre al salón rosa, el de los dormitorios de la planta baja azul y el más pequeño de todos, junto a la sala polivalente de amarillo. Este colorido juego contrasta con las fachadas blancas de la vivienda que buscan integrarse en el tranquilo entorno.

The access patio is painted in orange, the one that opens to the living room in pink, the one of the bedrooms of the ground floor in blue and the smallest one, next to the polyvalent hall, in yellow. This colorful game contrasts with the white facades of the house that seek to integrate in the quiet surroundings.