>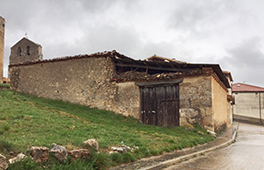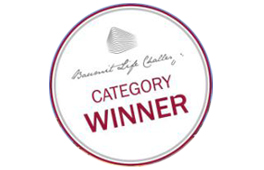 MYCC ARCHITECTS
Carmina Casajuana, Beatriz G.Casares
CONSTRUCTOR
Construcciones y reformas Fernando Andres Peña

1ER PREMIO CONCURSO BAUMIT LIFE CHALLENGE 2020
CATEGORÍA - REHABILITACIÓN ENERGÉTICA




CASA ALCOBA
ALCOBA DE LA TORRE, SORIA, ESPAÑA.

INTRODUCCIÓN: La vivienda se sitúa en uno de tantos pueblos olvidados de España, donde la pequeña población que todavía permanece está próxima a desaparecer. Sin embargo, como en tantos otros enclaves, cuenta con un bello castillo en ruinas y una iglesia románica. Muy cerca de ellos, en un emplazamiento privilegiado, decidió el propietario de esta vivienda comprar un antiguo cobertizo para rehabilitarlo y convertirlo en su residencia vacacional. La ubicación, a escasos metros del castillo, animó a conservar tanto los centenarios muros de piedra como el diseño de la cubierta y gran parte de las tejas de la vieja construcción de labranza.
The house is located in one of many forgotten towns in Spain, where the small population that still remains is close to disappearing. However, it has a beautiful ruined castle and a Romanesque church. Very close to them, in a privileged location, the owner of this house decided to buy an old shed to rehabilitate it and turn it into his holiday residence. The location, a few meters from the castle, encouraged the preservation of the ancient stone walls and the design of the roof and much of the tiles of the old farmhouse.

TRABAJO TERMINADO FINISHED WORK (FW)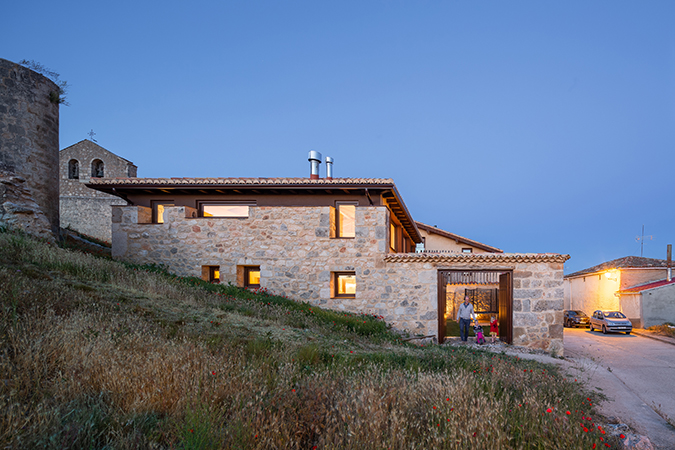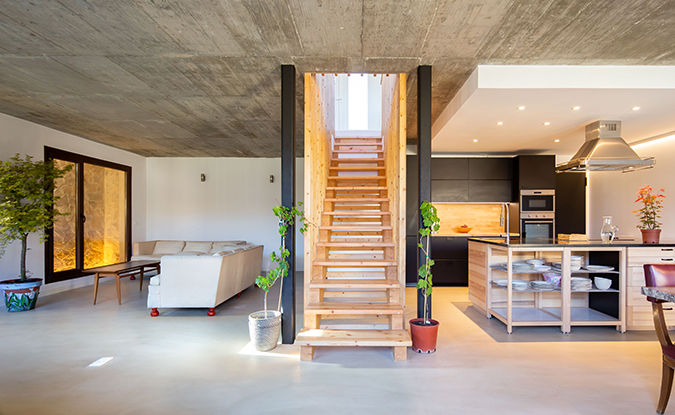 La casa se construye tras estos muros, abriendo grandes ventanas, desde las que se pueden observar las piedras que narran la historia del lugar. Este material se combina con el hormigón visto del techo y el microcemento del suelo que también hablan de los acabados naturales y ásperos del campo, y que relacionan esta planta semienterrada con la tierra.

The house is built behind these walls, opening large windows, from which you can see the stones that tell the story of the place. This material is combined with the concrete from the ceiling and the microcement of the floor that also speak of the natural and rough finishes of the field.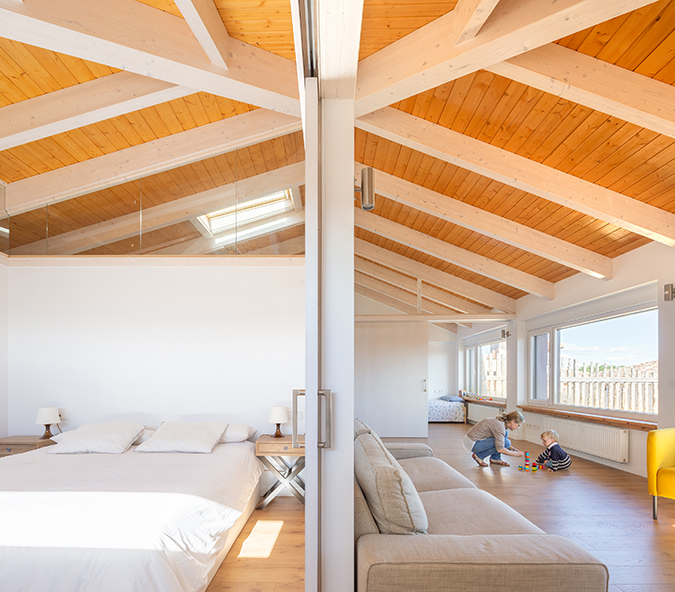 En medio de la planta, como si acabara de abrirse una escotilla, se despliega una escalera de madera que llama a su ascenso. En la planta superior el diseño de la cubierta rememora la existente. Un interesante cruce de vigas que no se puede perder por la necesidad de una compartimentación, por lo que se decide que los tabiques opacos lleguen tan solo hasta dos metros de altura y el resto se completa con un juego de vidrios que permiten que la cubierta se vea casi íntegramente desde cualquier estancia.

In the middle of the floor, as if a hatch had just opened, a wooden ladder unfolds that calls for its ascent. On the upper floor the roof design recalls the existing one. An interesting crossing of beams that can not be lost due to the need for compartmentalization, so it is decided that the opaque partitions reach only up to two meters high and the rest is completed with a set of glasses that allow the roof to be seen almost entirely from any room.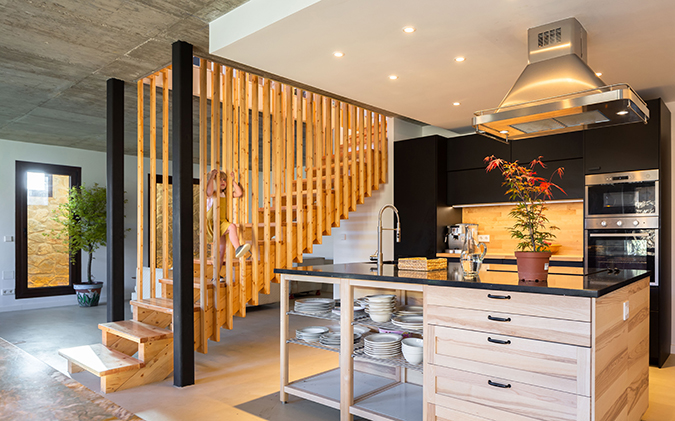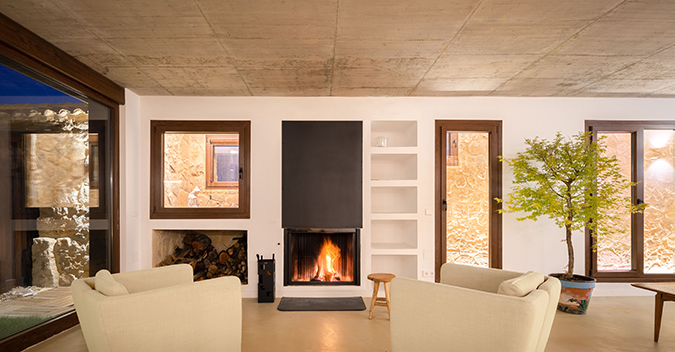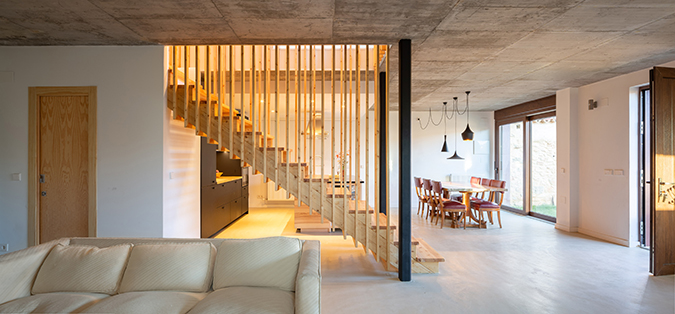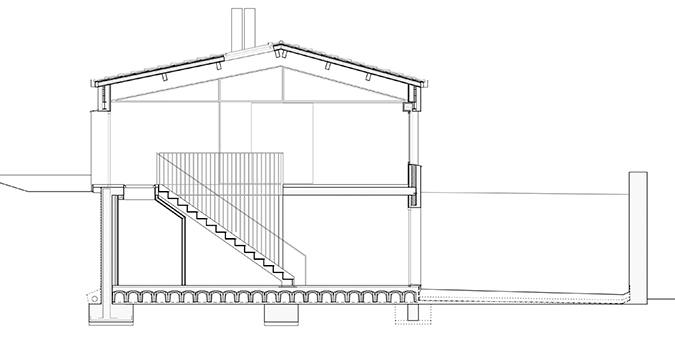 En la planta superior se recortan unos lucernarios desde los que se puede observar el campanario, parte del castillo y el cielo, configurándose un espacio luminoso con materiales cálidos, que se abre al horizonte de la meseta castellana, y que se contrapone con el espacio estereotómico de la planta baja.

Some skylights are cut from in a way that you can see the bell tower, part of the castle and the sky, configuring a luminous space with warm materials, which opens to the horizon of the landscape. There is a beatiful contrast between this space and the space of the low level.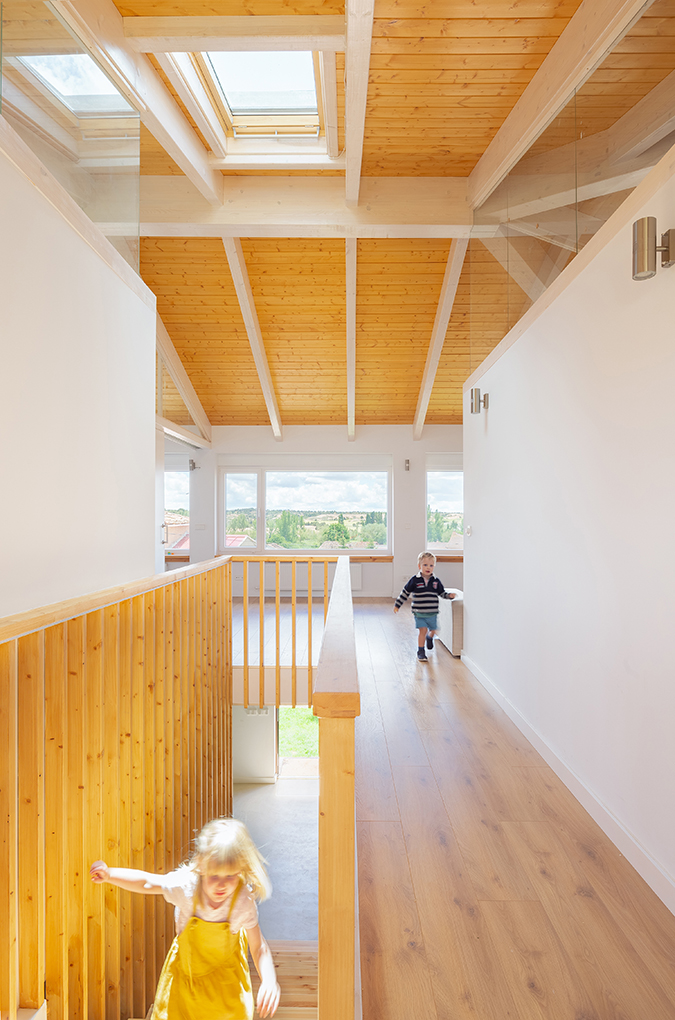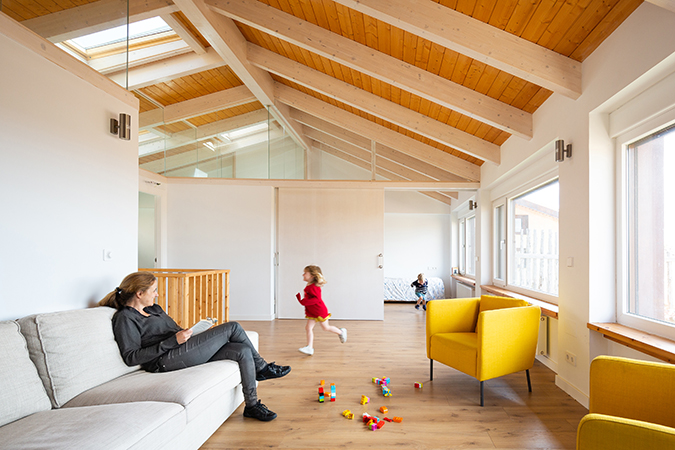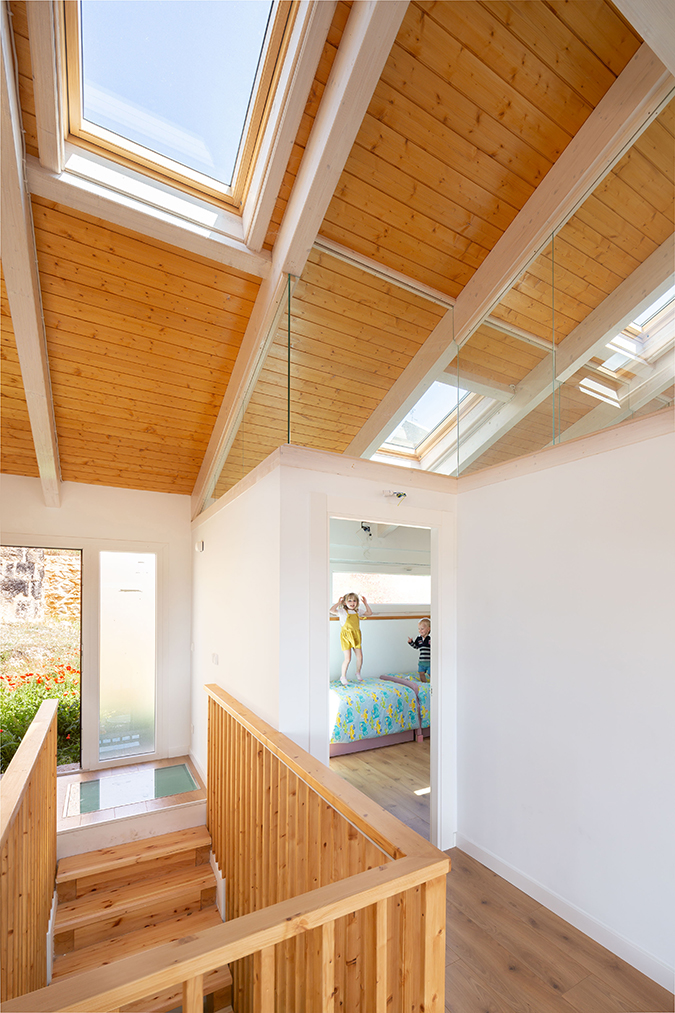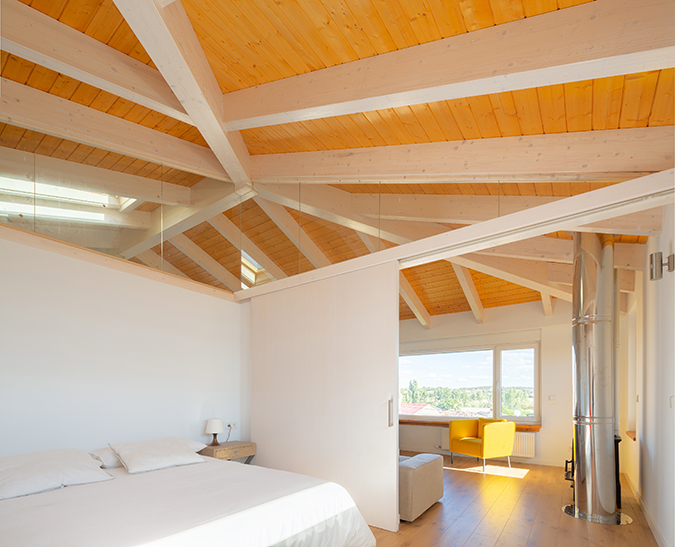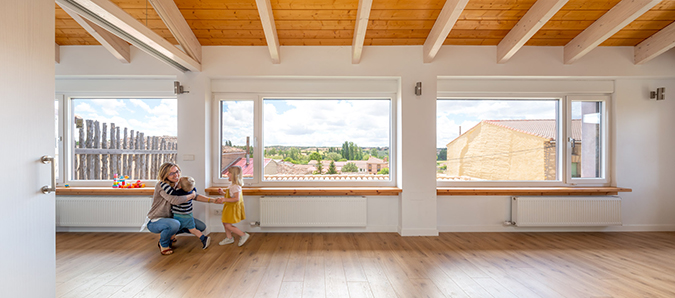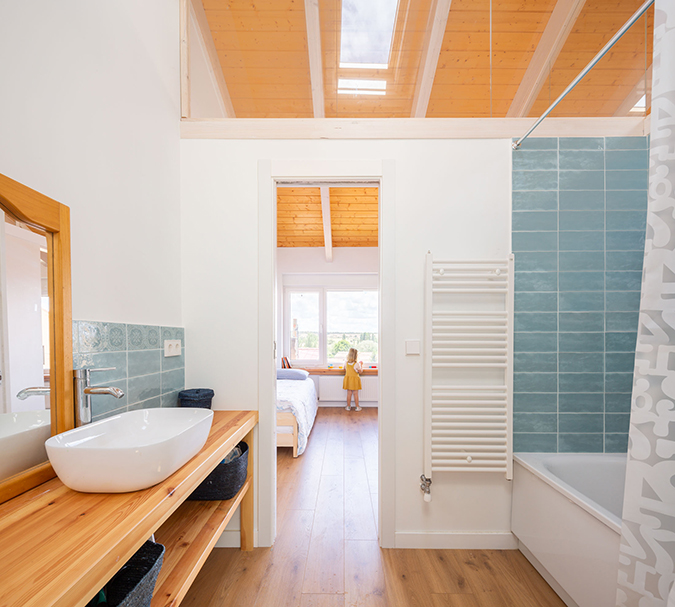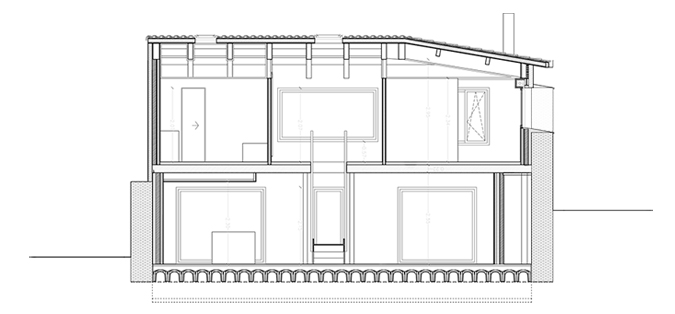 En el exterior la piedra se combina con SATE, que proporciona 12 cm de aislamiento y un acabado rugoso y desigual que evoca los revocos antiguos. Este aislamiento sumado a un poliuretano proyectado, consigue una envolvente continua que elimina todos los puentes térmicos y dota a la vivienda de calificación energética A.

Outside, the stone is combined with SATE, which provides 12 cm of insulation and a rough and uneven finish that evokes old plaster. This insulation, added to the polyurethane, achieves a continuous envelope that eliminates all thermal bridges and gives the house an A energy rating.