INTRODUCCIÓN:
Este singular refugio urbano tiene una superficie de tan solo veinte metros cuadrados y un volumen de cien metros cúbicos. En tan acotado lugar se aloja y trabaja una única persona que utilizará su dinamismo y creatividad para apropiarse del espacio en las distintas situaciones.
This singular urban shelter is just twenty square meters and nevertheless is one hundred cubic meters of volume. In such an enclosed space should a single person live and work. He will use his creativity and dynamism to make it his own sweet home.

TRABAJO TERMINADO FINISHED WORK (FW)

El proyecto es una sección longitudinal. La altura del espacio se ha utilizado para poder contener un gran número de estancias que por un lado están limitadas pero a su vez todas están conectadas visualmente entre sí. Incluso el baño esta a la vista… La necesidad de alojar todo el programa, cada uno con sus características y proporciones específicas, ofrece una imagen que recuerda a los antiguos juegos de plataformas para ordenador. La idea de ese tipo de ligeros forjados a distintas alturas de los que se puede ir de uno a otro casi de un salto estuvo presente desde los primeros bocetos.
A longitudinal section defines the project. The space highness has been used to accommodate several pieces, which are limited in volume but at the same time all are visually connected to each other. Even the bathroom is within sight… The necessity to hold the programmed uses, each of them with specific characteristics and size, leads to an image which looks like those old computers platform games. The idea of light and simple floors where could be possible even easily jump from one to another was always in mind from the very first sketches.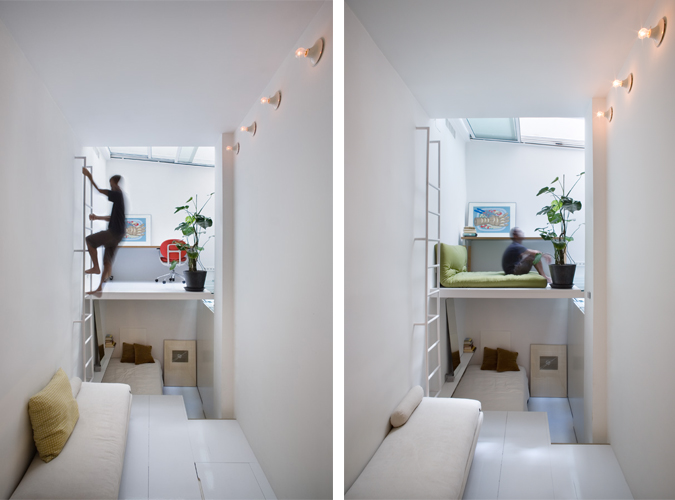 La dimensión tanto en planta como en sección de cada unidad de uso proporciona una serie de desniveles para que el cambio de una estancia a otra se realice de un modo físico. Subir a la cocina o bajar al dormitorio proporciona una acentuada sensación de cambio y una percepción diferente del lugar, ya sea de cada uno de los espacios independientes como de la vivienda en conjunto.

Size, both horizontal and vertical, of every piece gives as a result a non lineal path. So, moving from one room to another is a kind of small physical effort. Going up to the kitchen or getting down to the bedroom offers a stressed change and different sensation of the space, both any different unit and the apartment as a whole.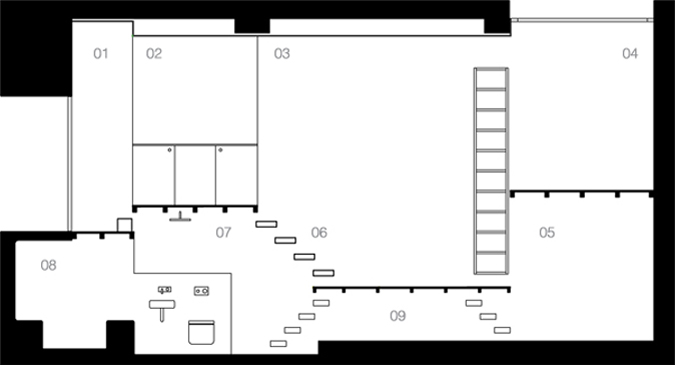 SEC aa' / 01. Acceso Access; 02. Cocina Kitchen; 03. Sala de estar Livingroom; 04. Espacio de descanso (luz) Chil-out space (light);
05. Dormitorio Bedroom; 06. Graderío Stands; 07. Baño Bathroom; 08. Hammam; 09. Almacenaje Storage


La vivienda, pese a sus dimensiones, busca ser generosa en sus espacios y en la cantidad de estancias que ofrece. Ninguna de las piezas que lo compone tiene un uso totalmente definido: la cocina es un paso hacia el salón, que proporciona un descenso en grada que a la vez es asiento. El salón se sitúa sobre el almacén y el suelo es registrable. Desde el espacio central que es el salón, se accede al dormitorio, a la soleada terraza interior mediante una escalera industrial, que puede funcionar como estudio o chillout, y unos pequeños escalones dirigen al baño, sobredimensionado y con el lujo de una acogedora bañera realizada in situ.
Construcción y acabados han sido realizados de modo sencillo y directo y el blanco ocupa todo el espacio.

The apartment, even with its small size, wants to offer generous spaces and a big quantity of different pieces of use. The pieces that make it up, does not really have a fixed clearly defined use: the kitchen is a walk-through room to get the living. There are stands rather than stairs to go down the living, which is over a cellar-storage room. Then, it is possible to get the ladder to go up to the indoor sunny terrace, a place to be used as a study or a chillout. Also the central living room connects through four steps to the bathroom. This is an oversized kind of luxury room that holds even an in situ cosy kind of hamman bath. Construction and finishing are made in a direct and unadorned way and all is full of bright white.